Case study 2.16
Asset management for public entities: Learning from local government examples.
Selwyn District Council – Has developed a system to ensure that its planned asset improvements are properly managed, monitored, and reported – showing that a good asset improvement plan need not be overly complex, but needs to be well structured and actively managed
Selwyn District Council has, by integrating the five waters (water supply, wastewater, water-races, stormwater, and land drainage), achieved comprehensive improvement planning in its Five Waters Activity Management Plan.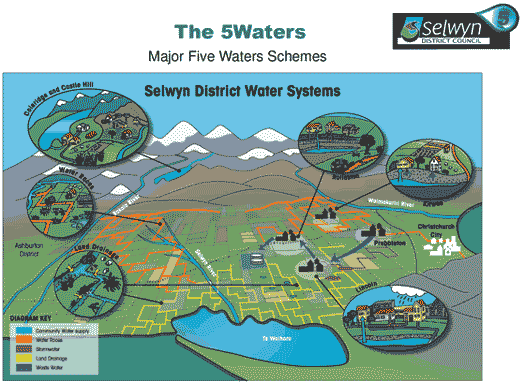 Improvements are identified in each section of the plan and cross-referenced to a detailed projects programme designed to achieve the intended level of asset management sophistication. The improvements relate to matters such as sustainability, audit and monitoring, data collection, and "criticality ranking". The plan identifies priorities (through a scoring assessment), responsibility, current status, and a cost programme for the project(s) in the next 10 years. The Five Waters plan now appropriately accounts for the benefits accrued to different communities within the Selwyn district. Councillors have approved the finance required to implement the plan. The Council also maintains a spreadsheet of earlier improvement actions, which records and demonstrates the progress it has made.